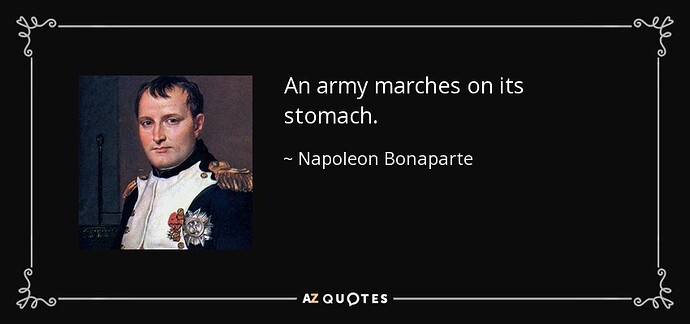 Life is war, you can't thrive with crappy food. Napoleon knew and paid good money to improve food tech, then we got the first canned food. Home canning is probably the most low tech and reliable preservation technique even today while cost the least. Thanks Napoleon.
Good equipment is a investment for life. You can almost buy everything here if you don't go out for drink for a month. Keeping everything simple and not writing much, just let me know if you want clarification. META post with affiliated links because happiest merchant.
Green Elephant Ceramic Sharpening Rod, Lightweight & Highly Durable 11-Inch Shatterproof Ceramic Honing Rod For Professional Chefs and Home Cooks
A good sharpening rod comes before a good knife, unless your blade is abused or had not been sharpened on stone forever, this should take care of you 99% of the time. I personally tried a number of rods, and purchased quite of few of these because they are that good. Forget steel rods even with diamond, those are so 1900s and will not be as good.
Victorinox 10 Inch Fibrox Pro Chef's Knife
Having used cheap and expensive knives, I settled for a set of Victorinox. Very keen edge because the blade is thin, with the benefit of being light and cheap. NSF certified and trusted by professional chefs. These are considered "top shelf" in the professional kitchen.
I personally use their Santoku the most because mom bought a couple of them and they lied around, they are that cheap. Have just ordered a 10" chef in spite of the unholy collection I have. because It is just that good. I cracked coconut open with it without problem. Blade hardness ain't that important, in reality you want low alloy and below 0.77% carbon for that "bite" and easy touch up. If professionals could make good money with these, so can you.
Victorinox Swiss Army Cutlery Straight Paring Knife, 3.25-Inch
The essential small knife for cutting off tips from garlic, tomato or onion, or anything small. You can actually survive your life with this knife along, if you don't cook any family sized portion. Also a cheap way to enlist any idle hands into prepping aromatics.
Mercer Culinary Millennia Bread Knife, 10-Inch Wavy Edge Wide, Black
I personally don't trust the x30 steel much, as it's a low carbon that could be used in cold forging, so I stock up with the Victorinox bread knife instead. However, I still got one and use it regularly. Bring approved by American Test Kitchen and complimented by chefs in professional setting meant something. Theoretically you don't even need to touch it up if you are using it on a non-metal or ceramic service, and could probably last you for decades if not life time. That's how serrated edge knife work. Work amazingly with bread soft and hard, also briskets if you ain't aiming for the best presentation but most reliable function.
EVERPRIDE Chef Knife Sheath Set (10-Piece Set) Universal Blade Edge Cover Guards for Chef's and Kitchen Knives – Durable, BPA-Free, Felt Lined, Sturdy ABS Plastic – Knives Not Included
I have tried like 3 or 4 brands, Wusthof and Mercer included, and ended up buying these again and again. In case you need to store away your knives. You can getaway with putting your knife in any container if you got these on.
Hario V60 Glass Coffee Dripper, Size 03, Black
The endgame for brewing coffee at home and office if not anywhere. Imo unless you insist on drinking espresso, this is your best bet. Used in brewing competition alike, manufactured by the fabled Hario in Japan. Plastic version cost much less and weight even less, but unless you want the big gey use the glass version. Paper filters are not free but quite affordable, buying those metal filter worth years of paper, and paper also filter out some oil, a double edge sword. I use paper. You can also convert Melitta style filter for use in this, but not the way round. In emergency paper towel or toilet paper works as well, just don't tell them how you made it.
Nordic Ware Natural Aluminum Commercial Loaf Pan, L: 9.00 in. W: 5.30 in. H: 2.75 in, Silver
One of the best loaf pan on the planet. Unless you want the perfect square "Pullman" square bread, this is the way to go. You can also make meat loaf and many other stuff with it. Being seamless one-piece pure aluminum it should last forever with proper care. You can't go wrong with Vollrath either.
SOLIDTEKNICS QUENCHED US-ION 12-inch Wrought Iron Skillet –1/8-inch Seamless Cookware, Seasoned Finish, Suitable for Stovetop to Oven to Campfire. Non-Toxic. High Performance. Made in the USA.
Nothing tastes good in a nonstick pan. This is one of the few wrought iron/carbon steel brand in existence, but one-piece construction. My META cookware brand, far better than lodge unless you want to stop bullets. In reality you only need a skillet/wok and a stockpot, plus a dutch oven. Get the pre-seasoned so it works like a lodge, read a bit into how to take care of cast iron and it should last you for generations.
https://www.kleankanteen.com/
The only water bottle you should use for both insulated and single wall, and the only one with full metal/silicone construction. Single wall for large capacity and even boiling, insulated for storing hot water. Get the TKWide and not the more fancy one, I tested them all and the TKWide is the most sensible.
https://rticoutdoors.com/Travel-Mugs?name=Travel-Mug&size=20oz&color=Charcoal&material=Matte
Buy at least one for each of your crewdog/family member. Theoretically you can survive with Ozark Trail brands, but with just a couple bucks more you get the best design on planet earth, period. Easy to clean and carry, also surprisingly large volume. Also grab a silicone lid from somewhere if you are using it as your main cup at home.